Restore your building's fire-sprinkler system
Wet and dry fire-sprinkler systems are prone to microbiologically influenced corrosion (MIC) and rust.  Such factors lead to corrosion, thinning of pipe walls, pinhole leaks, obstruction, and sometimes failure of the system. Maintaining a fire-sprinkler system is imperative for the protection of your building, its people and material possessions.

CuraFlo's epoxy pipe lining process and specially formulated CuraPoxy® FS are an excellent long-term solution that is: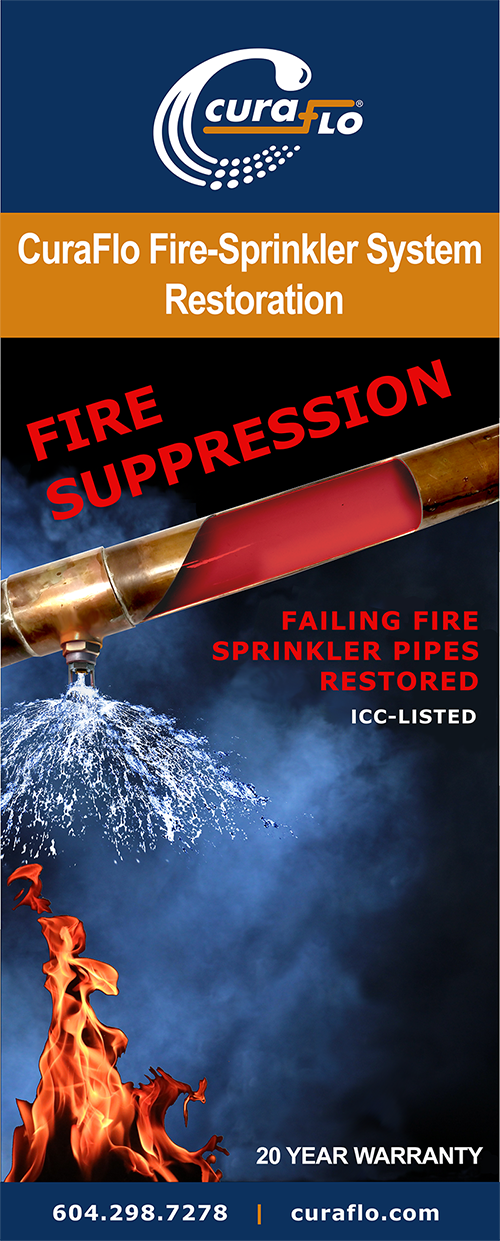 Safe
Approved to meet the LAPC-02 Certification guideline for Internal Pipe Coating for Fire Protection Piping, established by the City of Los Angeles' Mechanical Laboratory

Pipe cleaning and coating process are conducted in accordance with ANSA/AWWA Standard No. C210-97 and CuraFlo's technical guidelines

Professional, experienced crews

Official member of the NFPA.
Cost Effective
Alternative, less expensive solution to repipe

Can be applied to galvanized, copper and steel piping systems from 1" to 12"

Five hour cure time ensures fast return to service
Long Term
Prevents MIC and rust corrosion in wet, dry and deluge systems

Specially formulated to coat the inside of pipes without restricting water flow

Epoxy easily handles any temperature and pressure changes