The CuraFlo Spincast System rehabilitates water, drain line and industrial process pipes ranging from 3″ to 36″.
Our system restores and protects pipes of all types and conditions by centrifugally casting 1 to 5+ millimeters of solvent-free, protective epoxy coating onto the interior surface of the pipe.
Large Pipe Restoration
Our process removes even the worst corrosion and tuberculation and protects against future corrosion and buildup without the cost and disruption of excavation and replacement. CuraFlo's proprietary Spincast System has been used to line more than 360,000 feet of pipe throughout North America over the past 10 years.
Restore Water Quality – Save Time and Money
The CuraFlo Spincast System offers significant advantages over traditional dig and replace, slip lining and cement mortar lining. Our proven in situ pipe rehabilitation technology restores deteriorated pipes in a fraction of the time and for significantly less cost and disruption than it takes to replace pipe.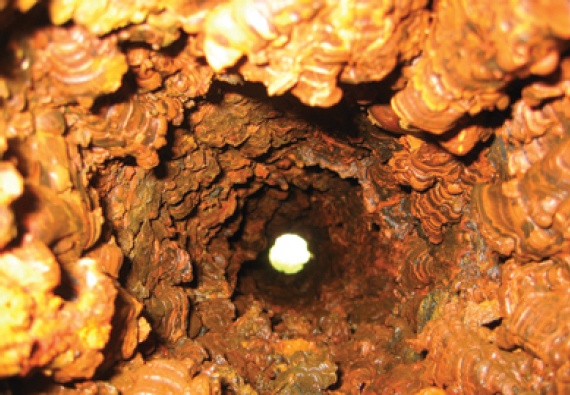 TUBERCULATED PIPE
Less excavating and disturbance of buildings and utilities

No service connection digging

No service connection plugging or blow back required, so no damage to lining or slugs left in the main

Long length installations

Potable water approved (certified to meet ANSI/NSF Standard 61)

Structural enhancement capability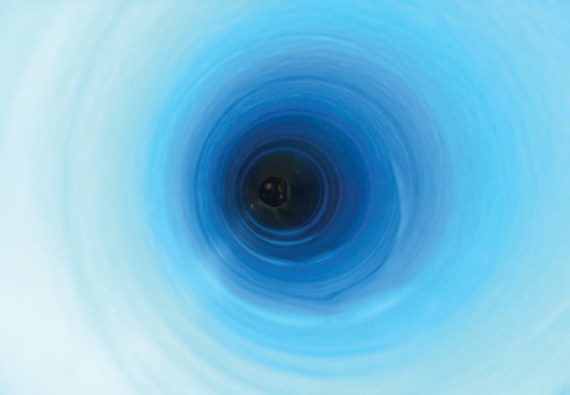 RESTORED PIPE
Corrosion and Brown Water Eliminated
Improve flow characteristics

Prevent future corrosion and leaks

Correct many pipe defects
|  Features | Spincast Epoxy Lining | Metallic Pipe Replacement |
| --- | --- | --- |
| Effect On Water Quality | Nil | Temporarily improved |
| Durability | Superior | Moderate |
| Corrosion Protection | Superior | None |
| Cost | 30 – 40% | 100% |
| Invasiveness | 10% (2 access points) | 100% |
| Prevents Leaks | Yes | Temporarily |
| Return To Service | Min. 5 hours post lining | Immediate |
| Project Duration | 30 – 40% | 100% |
| Typical Thickness | 40 mils (more if needed) | N/A |
| Flushing & Disinfection Requirements | Same day | Same day |
| Connection Blow Back Requirements | No | No |
Spincast Installation Process
1
Access the Pipe
Access points are made at fittings (valves, tees, fires, hydrants, bends etc.) in conformance with all local, state and OSHA safety requirements.
2
Isolate the Pipe
The piping system is isolated by closing the appropriate isolating valves within the system to shut off water to the designated pipe.
3
Clean the Pipe
Pipe sections or fittings are removed from each access point. The internal surface is then cleaned using one of several cleaning methods.
4
Pre Lining Inspection
Closed-circuit television is used to inspect the pipes, checking for cleanliness and identifying any potential problems.
5
Spincast Lining
A specialized rig pulls a plural-component hose through the pipe while centrifugally applying the epoxy coating.
6
Post-Lining Inspection
Following the required cure time for the epoxy lining the pipe is again inspected using a CCTV system.
7
Disinfect Pipe
After the lining has been inspected, the pipe can be disinfected and flushed.
8
Return to Service
Pipes are reconnected and water service is returned.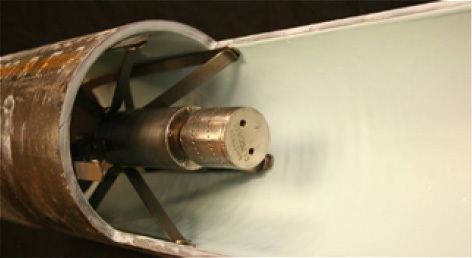 The Spincast System uses centrifugal force to robotically apply epoxy to up to 700 ft. of pipe at one time.