Precise, faster pipe replacement with minimal dust, noise and disruption.
We are Greater Vancouver's leading pipe restoration and repiping specialists. Seriously deteriorated water pipes can cause leaks and eventually, even system-wide failure. CuraFlo® offers a complete range of repiping solutions for apartment buildings and other multitenant residential, commercial, industrial and municipal structures.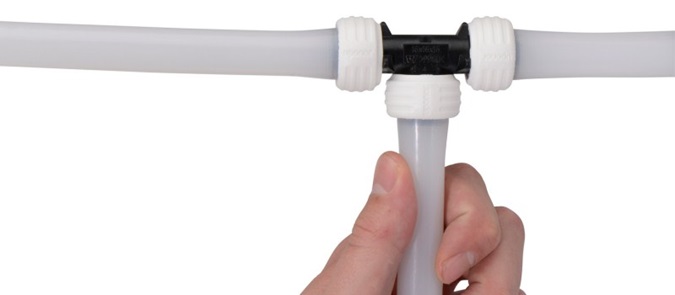 The Curaflo difference: Long-lasting Repiping Solutions from experts you can trust
Vancouver's water is among the highest-quality available anywhere in the world. Yet its aggressive effects on copper pipes can cause them to leak only a few short years into their service life. When repiping is the necessary course of action, choose a solution that stands the test of time, mitigates the risk of further costly repairs down the road, and ultimately, boosts a property's marketability.
At CuraFlo, our professionals are specially trained to evaluate your building's entire plumbing system – not just the affected areas. Our customized cost-effective solutions are designed to:
Top brand name valves, stops and connecters such as Kits Dahl and Red-White.
Uponor PEX pipes and fittings [Cross-linked polyethylene (PEX)]
Uponor PEX pipe is the most popular plumbing material used today for ½-inch to 2-inch diameter pipes. With a 25 year warranty, there is good reason for that.
Aquatherm (a greener plumbing system made from recyclable polypropylene)
Designed for hot and cold potable water lines, it combines physical strength with high chemical purity and is one of the most environmentally friendly pipe types. Additionally, Aquatherm pipe is covered by a 10-year manufacturer's warranty; manufacturers of copper pipe do not offer a warranty on their product, so copper pipe is only covered by CuraFlo's standard two-year warranty.
Stainless Steel
Stainless Steel has low general corrosion rate and can withstand very high-water flow rates. When you combine those characteristic with how quick & easy it is to install, it is no wonder Stainless Steel is being chosen more and more for plumbing systems.
Stainless Steel not only blends well with modern design, but it is also 100% recyclable and is suitable for use in all types of water conditions.  Leaching of the alloys is not a problem as it falls well within the limits allowed for products in contact with drinking water supply (NSF-61 certified).  Stainless Stell offers excellent resistance to full range of potable waters aggressive (corrosive) conditions including various chloride levels, low PH, softness and high temperatures.  Therefore, Stainless Steel delivers better tasting drinking water than unlined copper pipes.
Stainless Steel provides a clean installation, allowing reduced flush times.  No soldering (torch) is required; therefore, a hot work permit is not required and reduces the risk of fire hazards.  Unlike copper, Stainless Steel does not require any additional coating (lining) to make it durable.  Stainless Steel requires little to no down time, maintenance or replacement over the system's life-cycle.  Initial cots may be higher but overall the economic benefits of using Stainless Steel out-weight other materials.
CuraFlo's Stainless Steel Pipe System has an expected lifetime of more than 50 years making it a great consideration for all or part of your RE-pipe projects.
Copper (Type "K")
Copper pipe has traditionally been used to repipe large-diameter water mains and risers. Yet copper pipe is not commonly used today. However, when asked for or required under code, CuraFlo Repipe Services uses only the best type (K) copper sourced in North America.
CuraFlo uses the grade of pipe with the thickest wall for maximum strength and durability. Adding an interior epoxy lining to copper pipes, as in CuraFlo's TriSure system, can make them as reliable as PEX.
CuraFlo Quality
Quality at CuraFlo begins in the design stage of projects.
Our experts work with our in-house engineers, or an owner's engineers, to carefully design each new system. Our repipe designs are built to meet or exceed local codes, maximize use of the most reliable materials (materials with the longest, most comprehensive warranties) and avoid the use of products that have proven less than reliable in local buildings.
CuraFlo quality continues throughout the construction stage, with our crews taking care to install the new system to local code and product manufacturer specifications. We also design the system to minimize flow rates in order to ensure a quieter, more durable system.
Minimize disruption to tenants and residents
Reduce the need for drywall cutting and repair
Limit the number of water service interruptions
Minimize dust and noise created during the repiping
Eliminate water contamination from pipes
A quieter, more durable system
The new piping system is secured to the building's structure in such a way to minimize noise while allowing the system to move and expand and contract in sync with building movements. To accomplish this, expansion compensation and bumpers (Hammer Arrestors) are installed wherever required. New systems are also designed with many isolation valves throughout the building for improved serviceability. This also makes future renovation work easier.
Only the highest quality valves are used for isolation and fixture stops, and only braided style hoses are used at all fixture connections.
As sections of a new plumbing system are completed, the new pipes are flushed out and pressure tested before going into service.
Building owners can rest comfortably knowing that the CuraFlo team took great care from the design stage through to return to service and final inspection.
We are happy to provide reference contact information upon request.
Decades of experience with repiping projects of every size and scope

An unparalleled commitment to personalized customer service

Quality workmanship and materials