The CuraFlo Engineered Flow Lining System® is our proprietary process for restoring small diameter (1/2″ to 4″) water pipes using our flagship CuraPoxy® epoxy formula.
When our pipe repair process is complete, water pressure/flow is restored (often improved), leaks are eliminated, and your pipes are protected from future corrosion. Here are the key steps in this pipe repair process:
1
First, our certified technicians disconnect valves and hook up hoses.
2
Then pipes are dried with pressurized hot air, supplied from a compressor.
3
Next, pipe interiors are gently "sandblasted" with specialized particles to remove all debris and mineral build-up and prepare the internal surface of the water pipe for bonding with the epoxy.
4
Our specially formulated epoxy, CuraPoxy®, is then blown through the pipes using a vortex of air to transport the epoxy, to evenly coat the interior, creating a seamless, permanent, protective barrier.
5
Hoses are disconnected and CuraPoxy is allowed to cure 5 hours.
6
New fixture valve/fittings are installed and final testing is performed.  This testing ensures no water leaks remain and that full water pressure/flow has been restored to the system.
7
Lastly, water is turned back on and service is restored.
Stage 1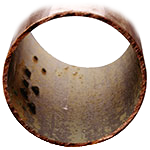 CORRODED PIPE
Stage 2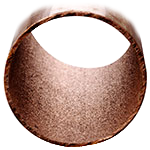 CLEANED PIPE
(SAND BLASTED)
Stage 3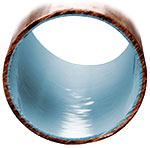 LINED PIPE
| | CuraFlo | Pipe Replacement |
| --- | --- | --- |
| Cost | Cost Effective | Expensive (Including Demolition and Repairs) |
| Time | Half the time of pipe replacement. | May require extensive demolition and older buildings may require hazardous material removal. |
| Invasiveness | Minimal | Removal of fixtures and walls required |
| Water Quality | Cleaner, safer and healthier | Could be subject to metal leaching if new system has metal components. |
| Leaks | Prevents future leaks | May not prevent future leaks (depending on material). |
| Corrosion | Protects against corrosion | May not protect against corrosion |
| Warranty | Up to 10 years | Typically 1-2 years labour and warranty on materials may vary based on materials used. |
The CuraFlo Engineered Flow Lining System® is ICC-ES PMG Listed
Codes
International Plumbing Code (IPC)

International Residential Code (IRC)

Uniform Plumbing Code (UPC)